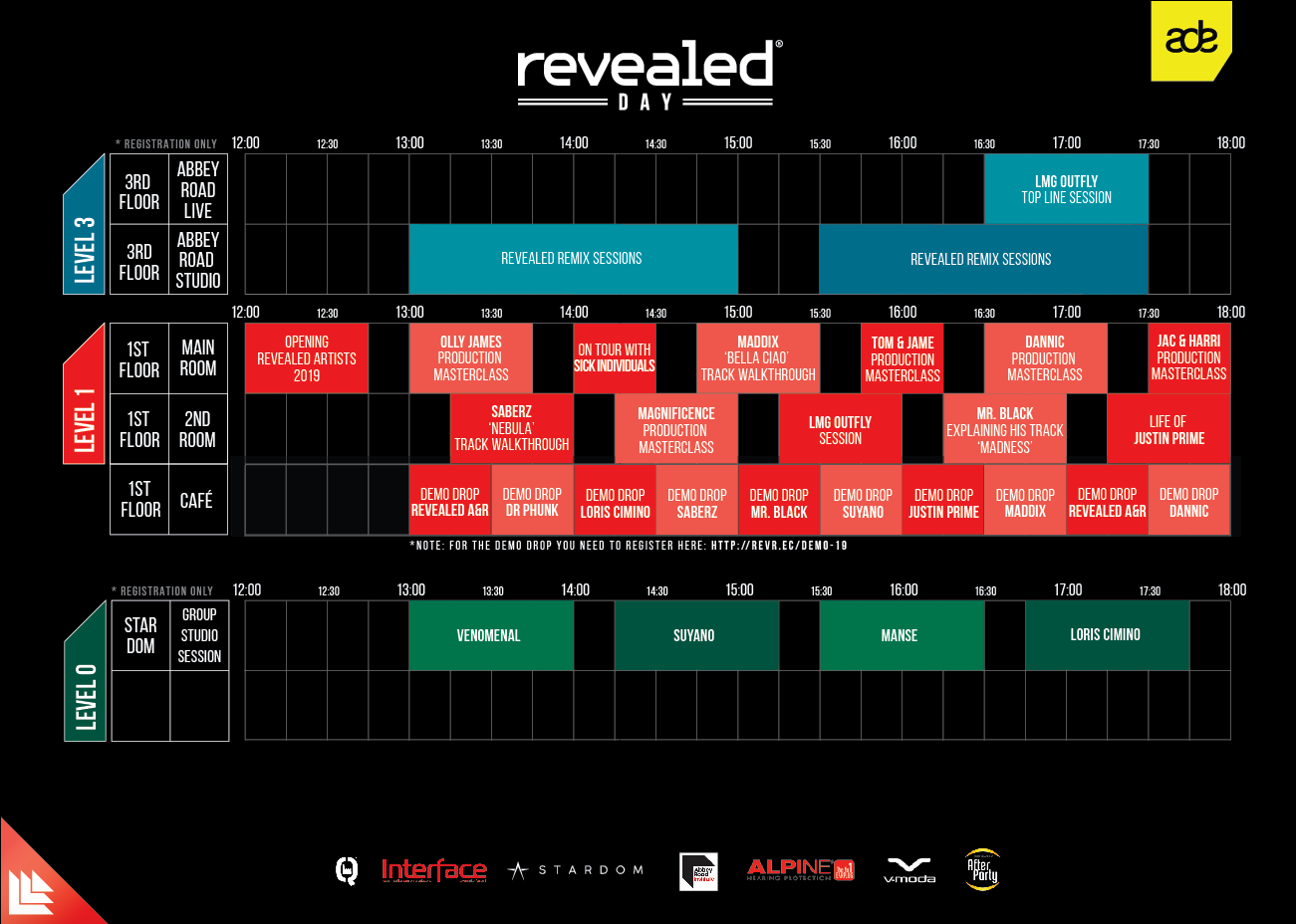 Revealed Day Conference // ADE // 19 October 2019
19 October - 19 October
• Q-Factory, Atlantisplein 1, Amsterdam
Revealed Day Conference
Saturday October 19
Q-Factory Amsterdam
Age restriction: All ages
Click here for tickets
Main Room:
12:00 - 12:45 | Revealed Artists 2019
13:00 - 13:45 | Olly James Production Masterclass
14:00 - 14:30 | On Tour with SICK INDIVIDUALS
14:45 - 15:30 | Maddix 'Bella Ciao' Track walkthrough
15:45 - 16:15 | Tom & Jame Production Masterclass
16:30 - 17:15 | DANNIC Production Masterclass
17:30 - 18:00 | Jac & Harri Production Masterclass

2nd Room:
13:15 - 14:00 | SaberZ 'Nebula' Track walkthrough
14:15 - 15:00 | Magnificence Production Masterclass
15:15 - 16:00 | LMG OUTFLY Session
16:15 - 17:00 | Mr. Black explaining his track 'Madness'
17:15 - 18:00 | Life Of Justin Prime

Café [DEMO DROP register here: http://revr.ec/DEMO-19]:
13:00 - 13:30 | Revealed A&R
13:30 - 14:00 | Dr Phunk
14:00 - 14:30 | Loris Cimino
14:30 - 15:00 | SaberZ
15:00 - 15:30 | Mr. Black
15:30 - 16:00 | Suyano
16:00 - 16:30 | Justin Prime
16:30 - 17:00 | Maddix
17:00 - 17:30 | Revealed A&R
17:30 - 18:00 | DANNIC


Abbey Road Live: (*registration only)
16:30 - 17:30 | LMG OUTFLY Top Line Session
Abbey Road Studio: (*registration only)
13:00 - 15:00 | Revealed Remix Sessions
15:30 - 17:30 | Revealed Remix Sessions
Stardom Group Studio Session: (*registration only)
13:00 - 14:00 | Venomenal
14:15 - 15:15 | Suyano
15:30 - 16:30 | Manse
16:45 - 17:45 | Loris Cimino


On Saturday, October 19th, Revealed Recordings presents the 3rd Revealed Day Conference during ADE that offers everyone from the passionate dance floor raver to the talented studio producer a chance to get an intimate insight into the creative mind of the biggest DJ's and producers. The exclusive 500 capacity attendees can be assured to have a chance to listen, learn and get involved in a unique and highly creative environment.

Note:
- Revealed Day Conference is all ages, Revealed night 18+.
- You can only pay by card, no cash.
- Personal belongings can be stored in lockers.