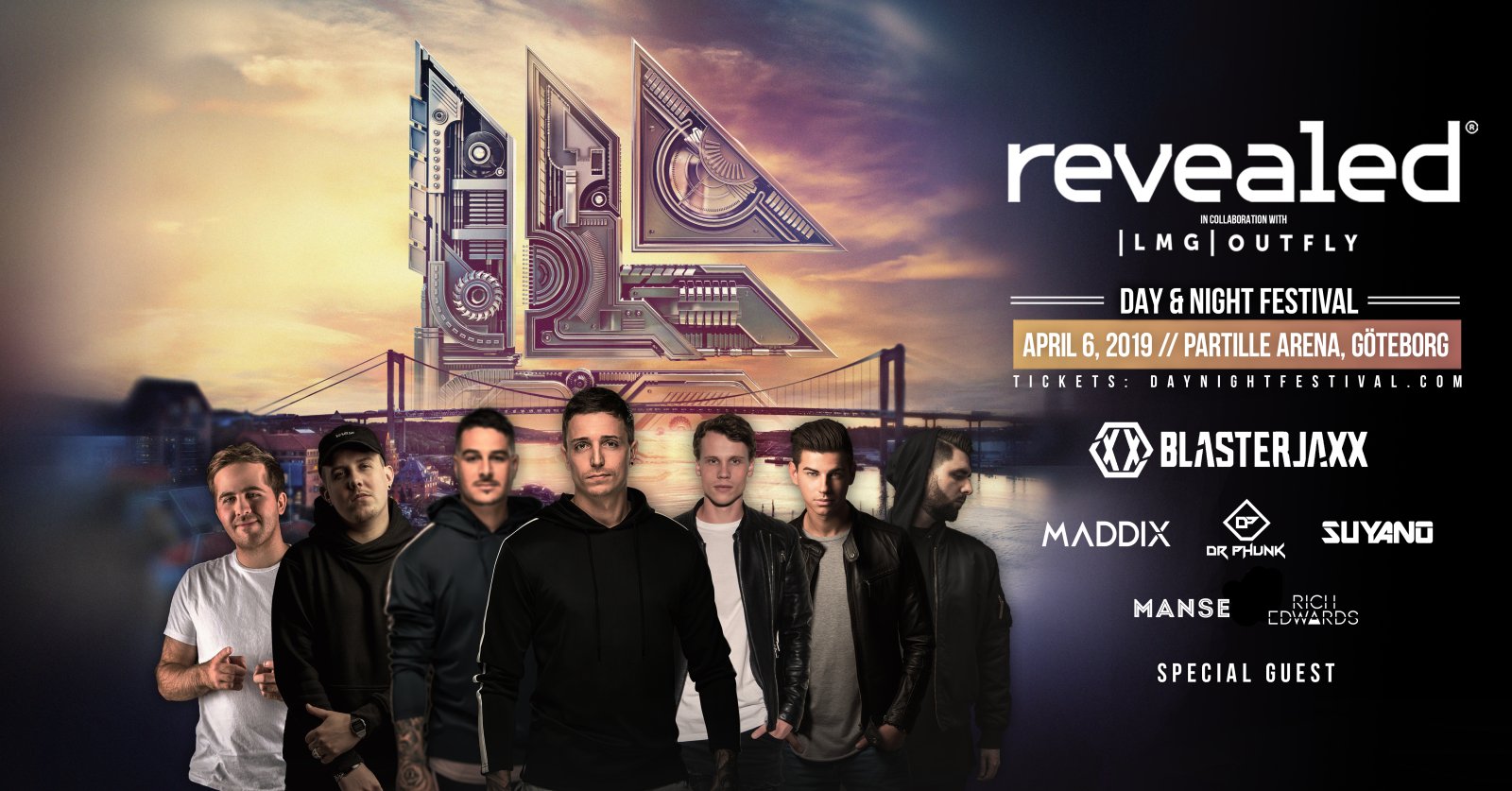 Day & Night Festival
06 April - 07 April
• Göteborg, Sweden
Revealed x LMG|OUTFLY presents Day & Night Festival
April 6, 2019 // Partille Arena - Göteborg, Sweden
Line up:
- Blasterjaxx
- SPECIAL GUEST
- Maddix
- Dr Phunk
- Suyano
- Manse
- Rich Edwards
More to be announced..

EN
Revealed x LMG|OUTFLY presents Day & Night Festival
Hardwell's own imprint Revealed Recordings is proud to announce the date for their Day & Night Festival together with LMG|Outfly music group. Taking place on Saturday April 6 at the Partille Arena in Gothenburg, Sweden, fans and artists alike will have the opportunity to get face-to-face with world's biggest DJ's and Producers.
An annual fixture in the Dutch dance music institutions agenda is the Day Conference that offers everyone from the passionate dancefloor raver to the talented studio producer a chance to get an intimate insight into the creative mind of one of dance music's biggest modern stars. As well as a unique perspective on the inner workings of one of most revered record labels. Taking place at the Partille Arena, the exclusive 1500 capacity attendees can be assured to have a chance to listen, learn and get involved in a unique and highly creative environment.
Fans attending the Night Festival can expect a bigger, bolder and more spectacular showcase event than ever before. Line up and program to be announced.
SE
Världsartisten Hardwell's egna skivbolag Revealed Recordings är stolta att presentera Day & Night Festival tillsammans med LMG|Outfly music group. Eventet kommer att äga rum Lördagen den 6:e April i Partille Arena, Göteborg.
Day Festival är öppen för alla som är intresserade utav Foto, Design, Musikproduktion och kreativt företagande. En unik möjlighet för dig som vill ta "fast lane" till kunskap. 1500 exklusiva platser, först till kvarn.
Alla musikälskare som dansar in natten med oss under Night Festival kan förvänta sig en större, fetare och en mer spektakulär show.
Fullständig lineup och dagsprogram kommer inom kort!
Varmt välkomna till Revealed x LMG|Outfly presents Day & Night Festival. Partille Arena, Göteborg, 6:e April, 2019.